Helping businesses make customers happier
Our High Speed Dot Matrix printers have for long been the standard invoicing device used at retail outlets across the country.
Over a period of time, we have created a wide range of solutions for pharmacies, hospitals, movie theatres and Quick Service (QS) restaurants. Today, several of our solutions have become a standard at several points of sale.
Self-service is usually the only solution that helps retailers and QS restaurants cater to increased volumes of transactions while keeping operating costs in check. Our understanding of the mass transit space, coupled with our experience in cash handling terminals, has helped us develop our very own self-checkout solution. This solution has not only helped our clients function smoothly, but has also allowed them grow faster than usual.
Our Digital Signage Solutions and Electronic Shelf Displays are also very effective for our clients with high footfalls. These solutions help communicate a variety of messages including promotional messages as well as navigational information to deliver an enhanced customer experience.
While our Digital Signage Solutions make the front-end experience memorable, our printing solutions make the back-end operations very efficient. Our Barcode printers and Handheld Computers boost productivity by ensuring maximum inventory visibility, while POS and Mobile printers help in faster checkouts.
Together these solutions not only help our clients improve efficiency, accuracy and productivity, but also deliver a delightful customer experience.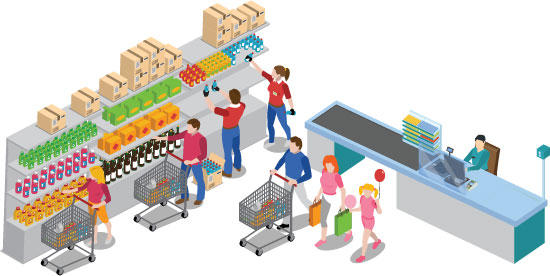 Solutions for your business