Changing the face of citizen engagement
Serving a billion people in a large country is quite a task for any government.
We take great pride in the fact that Lipi printers are helping the Indian Government and its institutions accomplish this task. Military establishments, public sector units and government institutions are located in metro cities and remote locations alike. Regardless of the location, prescribed procedures and documentation must be followed as laid down by the state: most of these documents are printed on machines manufactured by us.
In addition to efficiency, our products are also known for their security. Our Smart Card Printing Solutions are an integral part of the safety infrastructure laid out to protect some critical institutions and members of the state.
In the context of the central government's focus on digital solutions, e-governance and deployment of smart infrastructure through the Smart City initiative, our design team embarked on a development cycle to enable us to participate in this change.
Our self-service terminals, safety poles and solar jackets can be found in various Smart Cities across the country. These solutions are designed to withstand the elements and work as efficiently outdoors as they do indoors.
Our Digital Signage Solutions play a key role when it comes to building citizen engagement in Smart Cities. These are ideal for communication in a variety of spaces like transportation systems, government complexes, stadiums and so on. The messages can be customised quickly and easily, making the communication more relatable and effective.
Be it deploying the world's largest last mile e-governance delivery platform or developing secure access solutions to protect critical government institutions, we have shown a clear intent to ride the digital wave.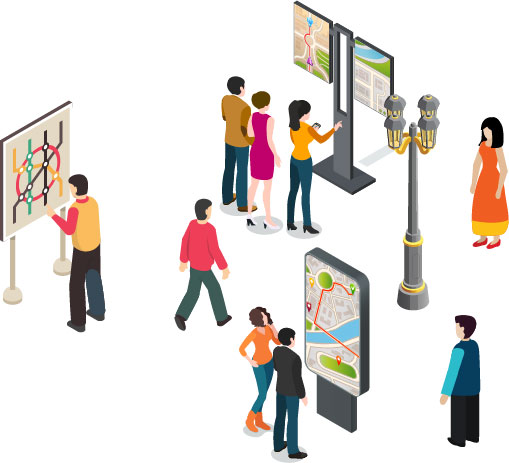 Solutions for your business